In October this year, the crew of Integri sailors went to Croatia again for the Erste Premier Trophy – a sailing regatta. Due to the situation that occurred this year, our competitors participated in only one of the originally planned two regattas, but they were all the more motivated to go to the marina in Biograd. Under the leadership of skipper Johan Hirnšal, the seven-member team was brought together by Integra's Managing Director Jiří Harcuba and Integra's internal and external IT specialists, consisting of Šimon Seidl, Filip Chytraček, Lukáš Fryč, Michal Hudák and Matyáš Pšenička. Three fleets of boats competed – Beneteau First 45 (9 boats), Elan 350 (7 boats) and Bavaria Cruiser 41S (11 boats). The Integra crew sailed on the Bavaria Cruiser 41S, a modern, three-cabin tourist-regatta sailboat measuring 12.35 metres.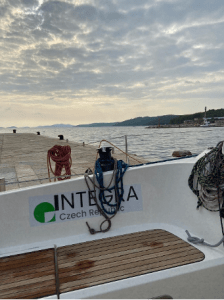 This year's regatta was planned as a five-day race, consisting of a Sunday practice day and 4 days of racing. It is customary to devote the first day or two before the race to the training necessary for basic crew cohesion.
Not wanting to underestimate anything, our guys boarded a couple of days earlier, giving them more time to train and we have to say it really paid off.
On the first day, a bank holiday Monday 28th September, the Integra team got off to a great start, winning the first race and finishing second in the second race to take second place overall. On Tuesday, Poseidon didn't seem to favour the boys, they started early in both two races and were obliged to return, so in the evening they had to settle for fourth and seventh place, but it was still a commendable finish.
The cards turned in favour of Integra's sailors on Wednesday when the Erste Premier Trophy Regatta and IT Regatta fleets sailed together, which was a proper spectacle. In both races, the team defended their first place from Monday, making them the winners of the day. On the final day, Integri's crew took a nice second and third place.
Overall, the boys took home silver.
"We didn't expect this at all, especially after Tuesday's unsuccessful day", said Filip. However, he and Matyáš are praising this week and believe that they will be on the podium again next year thanks to their overall victory.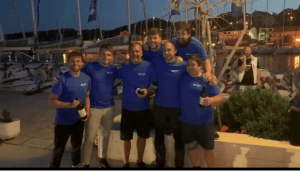 At the end of the race, Jiří Harcuba himself commented. At the same time, I would like to thank all the crew members who worked hard from morning till night, didn't stop and really did their best."
We, on behalf of the whole Integra, would like to congratulate them on their beautiful second place and we are sure they will bring home the gold next year! ?